Areas of Focus
The most recent national solicitation for CAPCaT's pilot funding was aimed to attract research applications focused broadly on accelerating the development and clinical testing of point of care technologies for heart, lung, blood, and sleep (HLBS) disorders.
A national clinical needs assessment conducted between October and November 2020 identified chronic cardiovascular diseases, coagulopathies and other blood disorders, sleep disorders and lung diseases as the top conditions for which POC technologies could help diagnose, monitor, better manage, or prevent condition(s) (including complications of COVID-19) across the Heart, Lung, Blood, Sleep spectrum. Additionally, accuracy, usability, and ease with which the technology could be incorporated into existing clinical workflows were identified as the most important POC characteristics to healthcare providers. Applications that seek to address the conditions listed above, that have the desirable characteristics listed above, as well as those that address health disparities will be given special consideration. CAPCaT continues to also use the NHLBI 2017 Strategic Vision and interviews with key stakeholders (i.e., NIH, FDA, payors, healthcare system leaders; pharmaceutical, medical technology and biotechnology industry leaders) to determine where POC technologies would have the greatest impact through diagnosis, monitoring, and intervention delivery. Other material informing our call for applications comes from the NCCIH and the POCTRN Coordinating Center's "Unmet Needs in Primary Care" needs assessment. Taken together, these areas of focus will be the basis for this funding round.
Areas of focus related to heart, lung, blood, and sleep disorders:
POC technologies that aid in the home-based management of cardiometabolic disease by identifying acute decompensations (i.e., detection of an acute flare of chronic obstructive lung disease or decompensation after COVID-19 infection, thereby avoiding hospital admission) in specific populations (e.g., according to race, ethnicity, sex/gender, socioeconomic status).

POC technologies that help better define patients at risk of bleeding or thrombosis, including key groups such as those treated with anticoagulants for pulmonary hypertension, venous thromboembolism, pulmonary embolism, or atrial fibrillation.

POC technologies that help differentiate patients with atherosclerotic heart disease who will progress to myocardial infarction or sudden death from those with stable disease.

Technologies that can monitor or enhance physiological responses to therapies (e.g., continuous positive airway pressure devices) at the point of care for the treatment of sleep disorders.

POC devices that define physiologic, phenotypic, or molecular characteristics to predict HLBS outcomes and, when applied in clinical studies, predict differential responses to therapy in individuals and in different populations with HLBS disorders (e.g., sickle cell disease, heart failure).

"Smart" POC devices that both monitor physiology and use novel algorithms to assist, adjust, or intervene automatically to treat acute complications of cardiovascular disease (e.g., a heart failure monitor that can be used to adjust diuretic dosing to reduce acute heart failure worsening).

POC technology that enables real-time, individual-level remote monitoring that would be used to detect and predict worsening respiratory status and reduce risk for intubation or hospitalization (i.e., in the context of pneumonia or recovery from COVID-19).

POC technologies well-suited for use by healthcare providers in the ambulatory clinic or home setting that accurately measure critical determinants of health, including treatment adherence, integrate them into the electronic health record, and enhance quality of care.
Areas of focus related to complementary and integrative health:
These approaches include natural products, such as herbs, prebiotic, probiotics, and selective medical diets, and mind and body practices including acupuncture, meditation, manual therapies (e.g., spinal manipulation/mobilization), hypnosis, meditative movements (e.g. tai chi, yoga, etc.), and music/art therapies.
POC devices or applications that can monitor the dose, intensity, duration and/or frequency of complementary and integrative health approaches employed by the patients at the point of care.

POC technologies that can objectively measure pain or functional limitations due to pain, which would be treated by complementary and integrative health approaches, at home or in primary care facilities.

POC technologies that can monitor symptoms, health related quality of life, or physiological responses to complementary and integrative health approaches at POC for the treatment of pain, mild to moderate depression, anxiety, or other symptomatic conditions, especially if they are applied across the heart, lung, blood, sleep disease spectrum.

POC technologies that can objectively assess or monitor stress, pain, sleep dysfunction, depression or anxiety, which would be treated or managed by complementary and integrative health approaches, at home or in clinical environments.
Point of Care Technologies Performance Criteria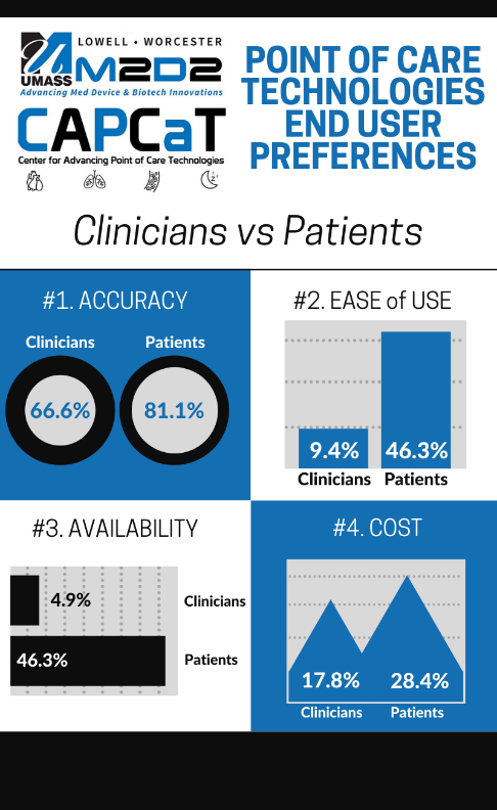 We advise applicants to consider the following performance criteria for their POC technologies:
Voice of the End User – Healthcare providers

: Accuracy, ease of use, availability, cost, and ease with which the technology could be incorporated into existing clinical workflows were identified as important POC characteristics by surveyed healthcare providers.

Voice of the End User – Patients:

accuracy, immediate result availability, and out-of-pocket cost were identified as important POC characteristics by patients who participated in our needs assessment surveys.

Analytic Performance:

As a rule, the performance of POC devices should be equivalent to central laboratory instruments regarding analytical accuracy, reportable range and precision. Analytical time should be kept to a minimum (less than 5 minutes for common chemistry analytes and less than 15 minutes for immunoassays). Should a predicate device not exist, published preliminary data can be used to evaluate performance.

Ease of Use

: Ease of use is essential to successful implementation of POC test devices. In the case of instrumented devices, the user interface with the device should be designed to ensure regulatory compliance under the clinical laboratory improvement amendment (CLIA-88) with minimal requirements for intervention by the operator. Results readout must not be subjective but easy to read using color change readout, digital or graphic formats.

Workflow

: The POC technology should not require clinicians or staff to significantly alter the way they care for and treat patients in their practice setting and should ideally integrate into existing electronic systems.

Result Availability

: Results must be available in the home, at the hospital bedside or during an office visit (typically 10- to 20-minute result availability), so that decisions can be made in a timely fashion based on the test results.

Reducing Operator Errors

: The device should have built-in software safeguards to ensure proper operation and reduce common errors such as lock-out of untrained operators, lock-out for failed quality control (or failure to perform quality control) and lock-out of expired reagents.

Sample Types:

Samples that do not require a trained phlebotomist should be used, such as capillary finger-stick whole blood or saliva.

Storage of Consumables:

All consumables, including reagents, calibrators and quality control materials, should be able to be stored at room temperature. The minimal shelf life should be 6 months to 1 year.

Device Footprint

: POC devices should be designed to have as small a footprint as possible. Small benchtop or handheld devices are optimal.

Information Connectivity:

All instrumented POC devices should be capable of being interfaced to the electronic medical record system. The ability to transmit data using a bidirectional wireless interface is most optimal.

Cost:

Solutions that significantly reduce the cost of testing relative to the existing standard of care are encouraged.
Apply Now