Home - CIMIT CoLab

A Proposal Management Platform to Maximize Impact
CoLab is a secure, customizable proposal management platform that allows funding organizations to build on CIMIT's 20+ years of managing healthcare innovation solicitations to maximize the impact of its available resources. CoLab is offered on a SaaS basis to CIMIT's collaborators and offers benefits to each stakeholder to ensure that funds are awarded where they have the greatest potential impact on improving health!
Key benefits for each stakeholder include:
Applicants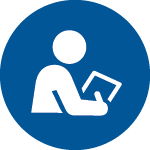 Secure, collaborative workspace where teams can invite new collaborators to help.
Multi-step workflow with questions structured to help teams form responses that increase the likelihood of success.
Valuable feedback from world-class expert reviewers.

Simple to use and works with most browsers – no training required!
Reviewers

Simple interface – no training required!
Structured proposals with word limits to easily assess applicants.
Options to rank or score applicants and interface with other reviewers.

Anonymous feedback to teams that helps them succeed.
Process Managers

Start with a proven workflow or customize to your specific requirements without programming.
Focus on making decisions while CIMIT manages the process.
Customizable look and feel to reinforce brand and reputation.

Real-time reporting for the whole team so you know the status of submissions and reviews at all times.
Funders

Effective - Maximizes the impact created by available funds.
Adds value - All teams benefit from the process of applying.
Efficient - Allows more of the available resources to go to projects.

Transparent - Realtime reporting available on applicants and reviews.
Learn More...
Would you like to learn how you can streamline your solicitation process? Reach out to find out more!